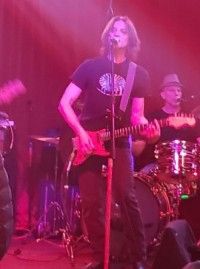 Relocation to Phoenix AZ!  In person lessons now available in the Valley of the Sun.
Online lessons will be made available Fall 2021 for current/future Pacific NW WA students.
Chris has been teaching guitar full-time in the Pacific NW since 1997 with a client base ranging from 40 to 60 students weekly.  Chris is a resident guitar instructor at Ted Brown Music (since 2004) and Highland Hill Music (since 1997).  He has also taught at Music World in Tacoma, West Campus Music in Federal Way, and Puyallup Music Store in Puyallup.  In addition he receives student referrals from the University of Puget Sound and Tacoma Community College to name a few.
Chris has many student success stories, perhaps his most prominent former student being Jared Dines of YouTube fame who studied with Chris for five years.  Among other student achievements, he has helped former students/clients gain acceptance to SOTA (Tacoma WA School of the Arts) and Musician's Institute in Los Angeles and has yet to have a student fail to get coveted guitar spots in their respective high school jazz bands, musicals and rock groups.
Perhaps most tellingly, several of Chris' former students work in the industry as performers, recording artists, and recording engineers.  He has also provided guitar lessons to guitarists in bands touring through the area who need a little extra help before a major tour or recording session.  (Believe it, some of these guys are not quite prepared for their new-found fame when it comes!).   
He has a bachelor's degree from the University of Washington in Sociology.  While at UW, he took as many music courses as possible, completing two years of music theory and taking several 300 and 400 level composition courses - all this while supporting himself playing, leading and booking a hard rock cover band doing seven night a week engagements consisting of four hour nightly sets covering the likes of Led Zeppelin, Queen, Van Halen, AC DC and many other guitar rock bands.  He credits this as a primary contributor in thoroughly developing his chops, especially given this was in the late 80's and early 90's when guitar playing was practically a full-contact sport!  It was a great way to develop skills and stagecraft.  This background, a unique cocktail of formal education, real world hands- on performance and business savvy, gives Chris a rich and comprehensive background to his teaching.   
Post-college and currently, Chris performs as lead guitarist, lead singer, and songwriter in his band Lund Bros.  The band has released 12 (count em!) full-length CDs over the course of the last two decades, two of which are double-disc sets.  All Lund Bros releases are comprised entirely of original songs and have received highly favorable reviews throughout the world and in the Rock and Roll industry.       
Though Chris specializes in the Rock genre for his own recordings and performances, he is well-versed in many styles, teaching Blues, Jazz, Rock and Classical guitar and accepting students of all ability levels from Beginner and Intermediate to Advanced.  Over time, Chris encourages his students to study several styles in order to become well-rounded players.  He emphasizes sight-reading, ear-training, pick and right hand dexterity, left hand fingering technique and extensive theory as integral aspects of his curriculum.
Chris,
I appreciate everything you have taught me about guitar.  I am excited to learn more!
-Nathan Lovitt
Chris,
Studying guitar with you for the last couple of years has been a defining part of not only my guitar playing, but every aspect of my musicianship.
Keep being a fantastic teacher!
-Josh Kuras
Chris,
Thank you so much for your patience with our crazy lives!  Thanks to your flexibility, we have been able to keep music a part of the boy's lives.  So important!
-Angela Lee
Chris,
Thanks for teaching Alex to play guitar so well.  We truly think you are amazing!
-Diane & Neal Hart
Chris,
Just want to let you know how much we appreciate your teaching Nick over the last three years.  You were a great teacher and he always looked forward to lessons!
-Mary Bates
Chris,
It's true to say that the last two years  of lessons with you were the most musically educating I've experienced.
Thank you so much!
-James Stojack